ZSS Radiant Skin is a nutrition-focused 2-part (vitamin supplement and topical antioxidant serum) skin detox system featuring zeaxanthin, a strong antioxidant carotenoid found in leafy green vegetables, yellow and orange peppers, corn and eggs.  Zeaxanthin is often found in supplements for eye health, combined with lutein. According to ZSS literature, this method helps keep skin radiant in spite of environmental factors, supports healthy skin with age, promotes skin hydration and reduces redness caused by the skin's exposure to the outside world.
I was thrilled to see several familiar naturally-sourced ingredients (alpha lipoic acid, seabuckthorn fruit oil, and gotu kola) with properties reported to repair damaged, dry and sensitive skin, diffuse redness, and provide skin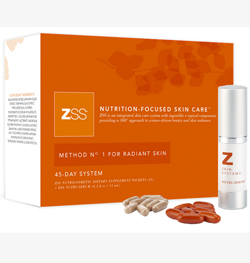 firming and toning as well as fighting deep lines and wrinkles. The only thing some people may not like is the serum does contain silicones.
I used method no. 1 (there's also a system for acne) for radiant skin for 30 days. The product is a bit over-packaged, in my opinion. A nice big box, with individually wrapped daily doses of the supplements, and a small pump of the serum. Individually packaged supplements make sense if you're on the go, but for me, two little bottles would have been easier to accommodate. The serum goes on nicely, evenly, and is quickly absorbed, with no noticeable fragrance. I used it morning and night, followed by my regular products.
According to the company website, most noticeable results are seen after several months, and after almost three weeks, I was beginning to wonder if I'd see any change/improvement at all. Then almost overnight, my skin was brighter, smoother and lines and even deep wrinkles (in the corners of my eyes especially) noticeably softer. But, the best and most amazing improvement I see is in the rest of my skin. Cellulite on my legs is changing, softening and fading!  All my skin looks healthier, not just on my face.
This is a whole body solution — visible (not dramatic, but certainly noticeable) results after 30 days. I'm impressed and give the ZSS Radiant Skin System a hearty two thumbs up